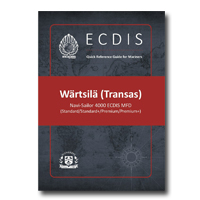 ECDIS QUICK REFERENCE GUIDE FOR MARINERS: WARTSILA (TRANSAS) NAVI-SAILOR 4000 ECDIS MFD (STANDARD/STANDARD+/PREMIUM/PREMIUM+)
This title is part of the ECDIS Quick Reference Guide for Mariners series. Designed for mariners at any stage of their maritime training and careers, each Guide offers a quick reference for a specific ECDIS manufacturer.
This Guide is for Wartsila (Transas) Electronic Chart Display and Information Systems.
The Guide is presented in tabular format with graphic reproductions of ECDIS screenshots and lined pages at the end for important note taking. It includes information on:
- Key ECDIS menu functions
- Main display
- Navigation tools
- Chart display settings
- Route planning
- Route monitoring
- System settings.